Feel Comfortable with Above and Beyond COVID-19 Safety Protocols and Advanced Technology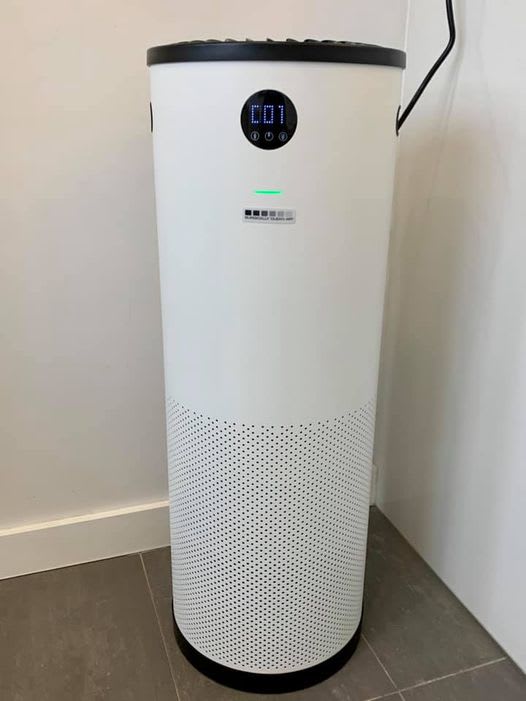 We are Currently Equipped with 6 JADE Purification Units
The JADE units are among the most advanced medical grade air filtration systems on the market today. While two of these units would suffice we have gone above and beyond for our patients and have strategically placed 6 of these units throughout the Dentistry at the Crossing clinic. 
The JADE air purification system utilizes Surgically Clean Air's multi-stage air purifying technologies that work together to clean, purify and re-energize the indoor air. The multi stage filtration system captures dust particles, pollen, volatile organic chemicals (VOCs), mold, allergens, viruses, odours (like formaldehyde and smoke), bio-aerosols, nitrous oxide, and many other pollutants that are found in the inside air in workplaces and residences. The negative ion generator makes indoor feel more pure, clean and energized to help combat fatigue. For an air purifier to deliver its benefits throughout the indoor space it needs to move large volumes of air through its filtration system effectively without impacting those people that are closest to it by creating a 'breeze' or being too loud.
COVID-19 Safety Protocols
See our protocols that we have implemented to ensure patient safety 
Surgical air purifiers in every operatory and waiting room, surpassing industry standards.
Limited number of patients allowed in operatories and waiting room.
Telephone screening before patient arrival
Covid-19 history check
Temperature check on patient arrival 
Mandatory mask policy
Dentist are equipped with highly advance PPE equipment to ensure maximal patient safety at all times
Hand sanitizer stations can be found throughout the clinic 
Thorough cleaning of all areas of the clinic before and after use 
Thorough sanitization of all medical devices and tools before and after use 
Message us today for more information about Dentistry at the Crossing and our COVID-19 policies.